If the answer is definitely truth to all brands, there is no need to have this article.
Each year many hi-fi tests of one-brand systems are hugely raised worldwide, especially in the hi-fi magazines.  The concept is that they are in same style – putting all stuff with same sonic grounds may not be a good idea.  It is still likely to have unpredicted disappointing results with speakers and amps from the same brand.
You may ask 'Should I still go for the same brand?'  Our advice is still on believing your ears.  If one brand is providing the sound exactly your wants, just buy it simply.  Naim or Linn are very good examples for one-brand systems with great performance down to cabling.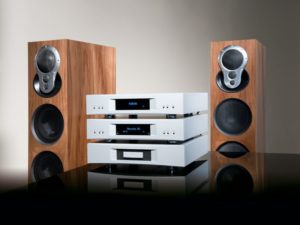 Previously, I would like to take a badly sounded example of same brand. Nevertheless, my mates in SoundAtHome.com disagree with my idea because it is very difficult for judgment.  So, sorry, I can't.
Hopefully the major technical appeal of one-brand systems – single-handset remote control – will become less of an issue if and when the IEEE1394/Firewire control protocol, or one of its rivals, becomes accepted as an industry standard. Then your Brand A amp will talk to your Brand B CD player and Brand X digital recorder, and all will be hunky dory. Mind you, it won't do much for the fact that most mix and match systems usually turn into a styling hotchpotch
Maybe brands like Cyrus and Musical Fidelity, not to mention the Linns and Naims of this world, haven't got it too wrong with their original, but brand-unified, styling jobs. As a statement set-up, a Hark rack of Cyruses, or a Mana or two stacked with Salisbury heavy metal, takes some beating.
There is no such perfect equipment by all the mainstream manufacturers, not to mention overt characters.  That is the reason why we pick different brands together in order to turn individual strengths into one great set.